CONNECTPOINT FOR TOWN CENTRES
How can Connectpoint support Town Centres?
The Connectpoint range of bespoke digital touchscreen software to transform how town and city centres inform and engage with their visitors and support their businesses and attractions.
The software allows full local and regional wayfinding and journey planning on all modes, including retailer, product and service location and payment for goods and services. The software would also feature targeted, paid advertising to direct users towards particular products, services or retail outlets, not only helping to boost your town's economy but also providing a sustained revenue stream towards the system's installation and upkeep.
The software is available to use on a range of internal or external touch screens and kiosks, or to be accessed within a defined area on mobile devices. As well as the existing wayfinding and journey planning modules, bespoke enhancements can include:
Payment for car parking and directions back to your car
Payment for bus tickets to show on your mobile to the driver
Retailer and product search for outlets within the centre
Geo-sense analytics of visitor behaviour and trends
Incorporation of cycling, walking, car sharing and Uber/taxi information feeds and booking processes
The ability to download the information direct to mobile devices, through existing apps or a separate weblink
There are a number of areas or ideas that could be included into the Connect Point system. Ultimately this can be designed to your specifications, whilst providing visitors with an interactive mapping tool unlike any other.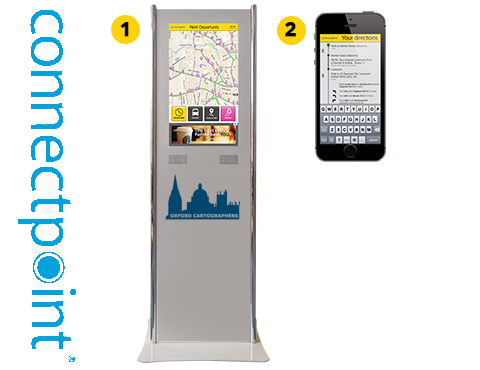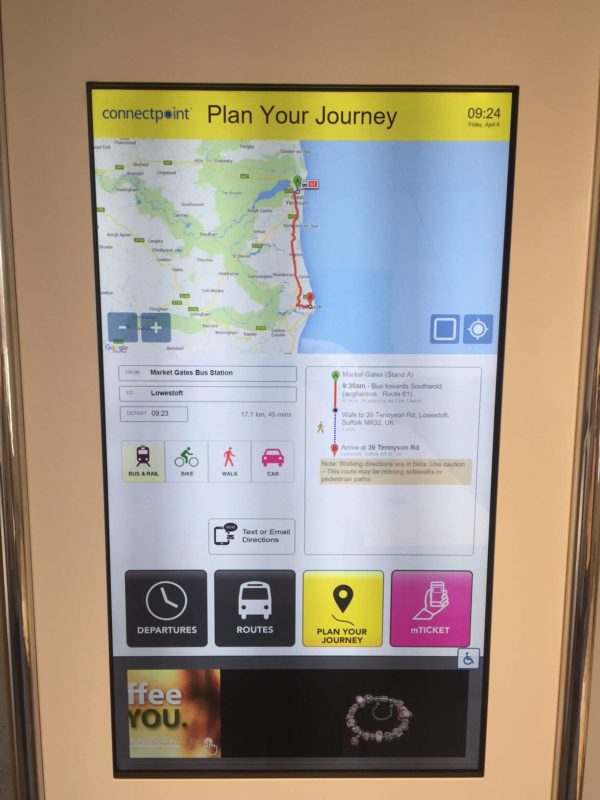 To get your questions answered, please leave your details below
[gravity_forms_styler id="2225"]