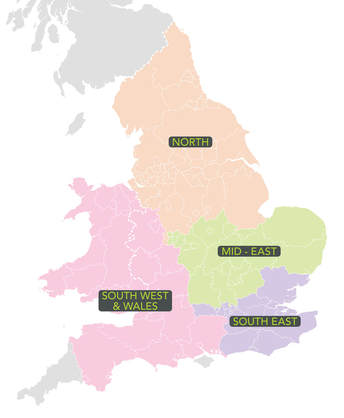 About Homesnag
Homesnag provide a simple service to users that want to purchase a new-build home. Most people get carried away with the high finish of the internal fixtures and fittings that they forget about the really important things that actually make up the true value of a home. Homesnag provide that crucial survey to plug the gap and make sure what you are buying is truly the product you thought it was.
The problem
Users were able to order their new build snagging survey by requesting a surveyor online. The problem was that many people were choosing surveyors that they thought covered their geographic area, but in fact they did not. This proved an administration nightmare as most of the day was just spend sorting out the problems this caused with surveyor diaries
The solution
The solution was a simple one, users can easily identify where their home is on a regional map, so to split the country up into 4 regional areas and customise the map with major cities all in their corporate colour palate was the answer.
As soon as the new webpage was launched with the maps clearly defined users can easily book the correct surveyor to complete the snagging survey and the team can spend their day growing the business!
Not only do the maps look great, it has streamlined our booking system. I had loads of people booking the wrong region before & since implementing the maps we have had zero mistakes. It's not just the end product that's great, the whole process (customer service) was excellent too.