World-class Oman container trans-shipment hub Port of Salalah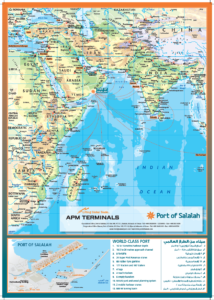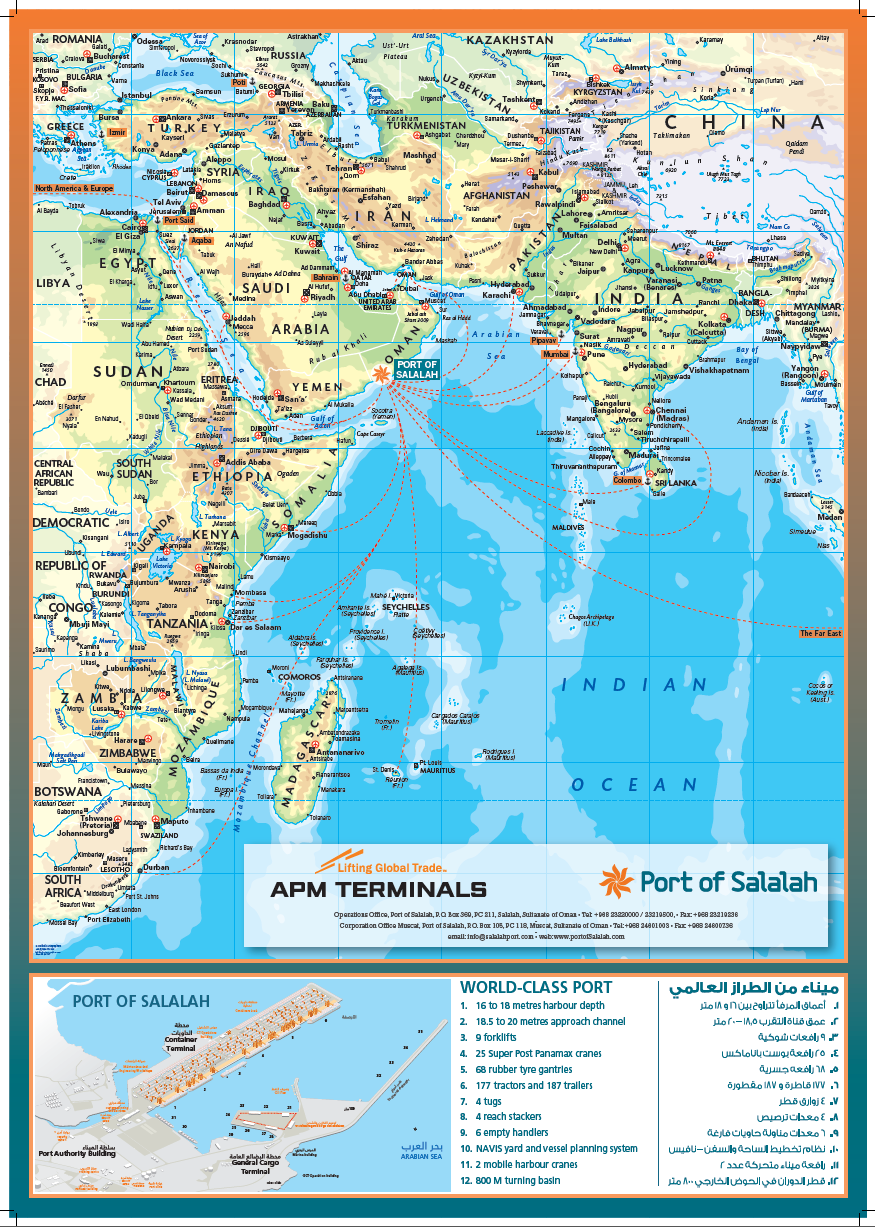 World-class Oman container trans-shipment hub Port of Salalah recognised the importance of clear, customised regional and global mapping to underpin its strategic position to both its staff and client base. It turned to UK-based mapping consultancy Oxford Cartographers to produce bespoke regional and global maps to highlight key direct shipping routes and destinations serving the facility. Part-owners APM Terminals also used the global mapping service to highlight the locations of its ports and logistics hubs around the world.
Having had previous experience working within the freight industry, Oxford Cartographers' Business Development Manager Lynne Broda knows that customers seldom use just one shipping company, especially when it comes to air freight.
"So for shipping companies and handlers, there is a real and constant need to educate existing and potential customers on your breadth of services to maximise throughput," says Lynne.
"It's important to let customers know the countries and regions you serve and to do this with a promotional map, highlighting shipping routes, main destinations and facilities is a simple and effective way to remind customers of this."
These maps can be further colour-coded to show frequency of services, pricing zones, travel times to name but a few additional attributes, all customised to reflect your corporate image and values. And as Lynne adds, the volatility of global trade patterns makes such communication with customers even more important.
"With global freight markets slowing down, particularly between Europe and Asia, but meanwhile increasing between Europe and the US, 2015 has been a challenging year. Promoting your services via any marketing channel can be demanding in these unpredictable times, so why not simplify the task with a map?

"A map is educational, fun and tells a story. It can be used as a strategic part of your marketing message whether being used in presentations or as a promotional give-away."
The custom maps produced for the Port of Salalah have certainly borne out the theory.
"The maps we received from Oxford Cartographers exceeded our expectations. The quality and design of the customised maps were fantastic and they are a valued addition to our marketing strategy. The location of the Port of Salalah is one of our unique selling points, and these maps truly highlight the strategic importance of our location. The Oxford Cartographers' staff were creative and it was a pleasure to work with their team. I would recommend Oxford Cartographers for future projects."

Jesse Damsky, Chief Commercial Officer