Town Centre Maps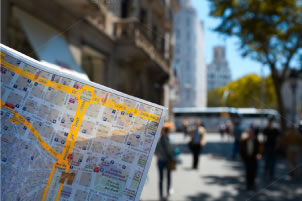 Town Centre Maps can provide a dual role for a vibrant town centre. Primarily you may think of a street display board where the map will provide useful location information to a visitor to the town, but also perhaps more importantly a well-crafted promotional map can visually display your own diverse and distinctive environment. These maps can highlight not only the retail environment but also the evening and night economies that encourage income from tourism, visitors and leisure.
HOW WE HELP
We offer a bespoke service to create clear town centre maps. Attractive promotional mapping which highlights key places of interest, shops and landmarks to encourage more visitors to your town or city centre. We design and adapt maps to provide the size, styling and colours you need, and supply the maps in a range of formats (star folds maps, tear off pads, mini maps, street display boards etc).
WHO WE SERVE
Our many Town Centre customers are located all over the country, and have a range of different mappings needs. We offer a variety of styles of town centre maps, including 3D building illustrations, and are always available to advise on your project from planning and design, through print, to the finished map.
Our customers include TfL, Southampton, Peterborough and Atkins. When working with Oxford Cartographers one of our clients said:
Oxford Cartographers are professional, friendly and reliable. They are able to adhere to our strict time frames, while providing a customised service and tailoring their products to suit our needs. They have excellent and creative suggestions on layout, colour schemes and advertising placements, helping to us to create a visually appealing and effective marketing product. Finally, their costs are reasonable and their production is fast and accurate, even on larger print runs. I am very happy to recommend Oxford Cartographers