Our Customised Maps
WHY USE CUSTOMISED MAPS?
Typically maps that are purchased from the Internet, or perhaps even cobbled together in-house, will not portray the information that you want to highlight, and might even focus on data that might be negative to your business. (For example competitors)
Customised maps will not only be 100% accurate, but they will reflect your company brand and the information that's relevant to you and the message you want to convey.
Typical applications are for location maps , town centre maps as well as a great tool to market your business. Our customised maps are an effective way to promote your company on wall maps, mouse mats, desk mats and mugs, as well as on your own website and publicity presentations.
Here's an at a glance guide to how our promotional customised maps are ideal for different sectors.
Our Products
Sheet Wall Maps
Mini Fold Maps
A4 folding to 52.5 x 74mm
Handy pocket sized maps suitable for insertion into Oyster Card®wallets or other Travel Card Wallets. This space saving map has room for the company name and logo on the outside front cover and additional space on the inside for branding.
Mapping is available at a variety of scales and can show an area from the World to a part of a Town/City. For example, one side of the sheet could show the M25, and the other side could focus on a specific area of Central London, or one side could have Central London and the other side could have a tube map.
Tear Off Desk Pads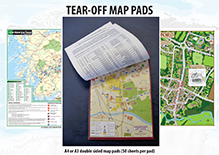 A4 or A3 in pads of 50 or 100 sheets.
Ideal for town centre mapping, at reception desks, vehicle rental collection points etc.
The maps can be printed on one side or both. We can recommend which option will suit you best as we have supplied this type of mapping for number of different purposes for a range of clients.
Desk Mats or Mouse Mats

Versions available; ultra thin self adhesive or traditional foam backed.
Ultra thin (25mm), self adhesive mousemats printed in 4 colour process underneath a textured, mark resistant and wipe clean surface.
These fantastic mats are backed with a repositionable self adhesive, and are very lightweight so are ideal for use with laptops, mailings and cover promotions.
Ultra thin sizes available include:
235 x 200mm / 235 x 165mm
200mm Round / 230mm Round
200mm Square / 230mm Square
297 x 210mm (A4)
Foam backed sizes available include:
235 x 200mm / 235 x 165mm
200mm Round
200mm Square
594 x 420mm (A2) – desk mat only